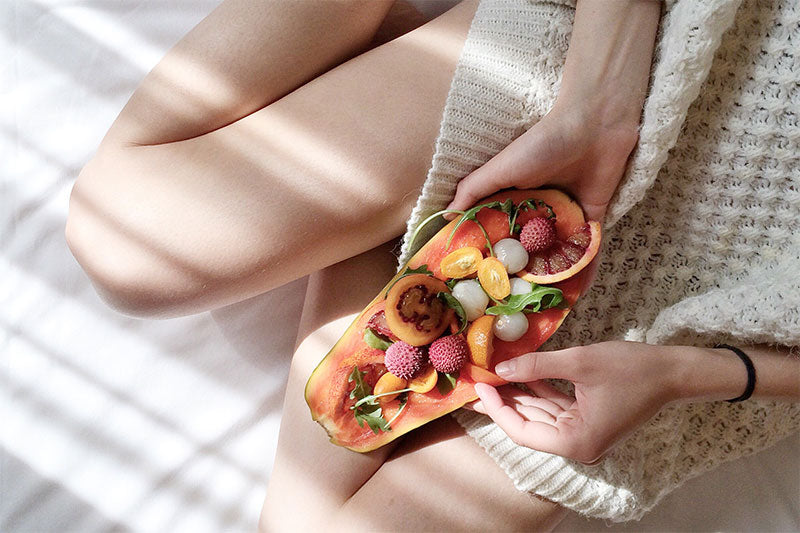 Superfoods Scientifically Proven to Give You Glowing Skin
With new powerful skincare tools like cryo-masks, it's time to get your best skin ever. Here are the superfoods that you need to get glowing.
We know what you want: healthy, glowing skin. In addition to eating the right food, putting the right food on your skin is important, too. Wait, what? Yes, don't miss out on the benefits of superfoods on your face. Your facial skin is porous and absorbs actives, vitamins, and nutrients from these superfoods. Check out our list of the most powerful superfoods to wear as a DIY skincare mask.
Superfoods That Nourish the Skin
Papaya

Add papaya to your skincare superfood routine and reap the benefits of a fruit brimming with healthy enzymes. Papayas contain beta-carotene, papain, and alpha-hydroxy acids that act as a strong exfoliator to your skin, dissolving dead skin cells. The result is lighter, brighter, and softer skin, which sounds like a win win to us. 
Turmeric
You might be used to using turmeric when you're cooking, but you should also be adding some to your skincare routine. Turmeric is rich in curcumin, an antioxidant that fights against free radicals that could be dulling your skin. While it's battling those free radicals, it's also helping to promote the synthesis of collagen. When you topically apply turmeric to your skin, the increased collagen production can help to renew skin elasticity - which means less fine lines and wrinkles. Yes please to this all natural skincare superfood.
Banana
Before you bake that banana into your banana bread, think about saving a little bit for a face mask, first. Bananas are chock-full of vitamin B-6, vitamin C, potassium, and even contain some vitamin A. It's a seriously hydrating face mask that can help with your dry skin, and may even reduce hyperpigmentation and brighten up the skin.
Avocado
When you use avocado for skin care, it might be hard not to just snack on some for yourself - but your skin needs the superfood as much as you want to eat it. It's hydrating for the skin and the healthy fats found in avocados promote the regeneration of your skin. It can also help to calm the look of inflammation, and nutrients like lecithin help speed up the body's healing process. High in vitamins A, B, D, and E, avocados are the superfood that can't be beat. When you have an avocado that's gotten too ripe, don't throw it away - put some on your face.
Honey
Alright, it might be a little messy, but honey is a great superfood for your face. Not only is it also a hydrating face mask, its antimicrobial properties really give your skin a boost. It's a natural humectant, which means that it helps to both absorb moisture and lock it in. It's long been known to help support acne-prone skin, because it's all natural skincare that helps ward off bacteria.
Pumpkin
You might like eating pumpkin pie on Thanksgiving, but you're also going to want to add it to your face mask. The bioflavonoids in pumpkin hydrate your skin and give it a plumping boost, along with infusing it with beta carotene and amino acids. This superfood also nourishes the skin by promoting collagen production. Like with many of the foods listed here, you can blend pumpkin with other superfoods, like honey, for a powerful superfood mask.
Why Not Combine Superfoods with Cryotherapy?
A cryotherapy facial involves using cold air or having liquid nitrogen pumped all over your face for 2 to 3 minutes. The goal is to give the skin a healthy and radiant complexion.
Using cold air or ice for skincare is a traditional method that provides a large list of benefits, including:
Reducing the appearance of wrinkles

Taking the pain away from sunburns

Helping to ease acne

Eliminating puffiness in the skin, especially eye bags

Refining pores

Boosting circulation

Toning the skin
Cryotherapy not only helps with all of the benefits listed above, but also can enhance the effects of the superfood ingredients in the skincare you're using. For example, if you apply a serum to your skin and then use ice afterward, the capillaries in the skin restrict and help to pull the good ingredients in. 
Beauty Pops give you the best of both worlds, infusing superfoods into an ice pop that you apply right onto your face for a boost of healthy radiance. The ice helps boost the superfood ingredients, and lock them in for long-lasting benefits. A great option if you want an easier DIY project or want to give this experience as a gift!