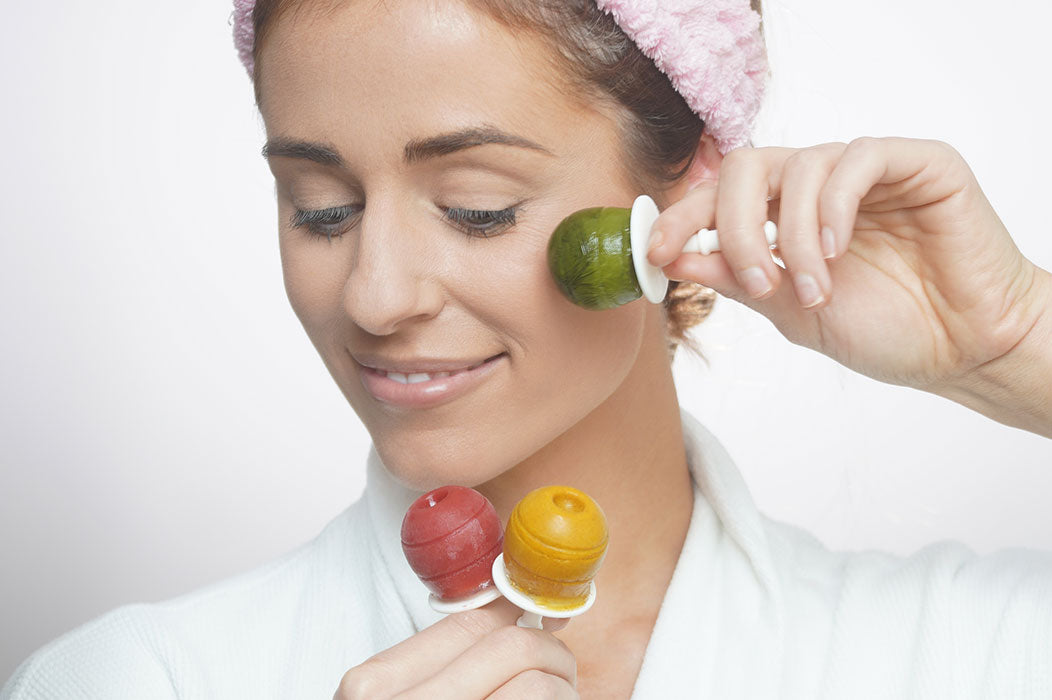 Skin Icing: Benefits of Icing the Skin
We're letting you in on an ancient beauty secret: skin icing. Yep, skin icing is the simple, effective way to hack your way to healthy skin. And Beauty Pops are here to help.
Skin icing - no, that's not icing that you put on your skin. Skin icing is literally when you apply ice to your skin in order to reap the multiple benefits of a cold facial. 
Cryotherapy has long been used for health purposes, because it reduces swelling, speeds up recovery, and helps ease pain. So why not do the same for your face?
What Are the Benefits of Icing the Skin?
Skin icing has long been used for a myriad of skincare benefits, including:
Boosting the healthy glow of your skin (yes!)
Smoothing skin texture 
Improving circulation
Reducing puffiness, particularly for puffy eyes
Soothing acne
Treating sunburns
Bringing down inflammation or swelling
Decreasing oiliness
Helping reduce pain from insect bites or rashes
When you ice the skin, your blood vessels constrict. This instantly calms inflammation, and improves blood flow in the skin. It can even brighten your complexion up right away.
Skin firms up, lessening the appearance of fine lines and wrinkles.
When you keep applying ice to your face on a regular basis, the dilated blood vessels can also shrink the bags under puffy eyes. It also shrinks your pores naturally. 
Not only does skin icing help with that long list of skincare benefits, it's also completely natural skincare - our favorite kind (that is why we created the Beauty Pops  , after all). It's also easy to do, and very affordable. It's the ultra-refreshing top skincare secret your skin has been waiting for.
How to Start Skin Icing
Since you've basically got no reason not to try skin icing, you're going to need to know exactly how to start. When you're using an ice mask, there are a few different methods to try to see which works best for you.
The traditional method for skin icing is fairly simple, so you can start getting your de-puffing and smoothing benefits right away.
If you're icing directly, sometimes you can even break capillaries under your skin, which can reverse all the benefits of the skincare that you're doing. Make sure that you don't feel pain when you're you're icing, just cold.
Take an ice cube and rub it all over your face for about two minutes. Use a circular motion while you massage your face. Make sure to be gentle, especially around your eyes - remember, it's a great method for soothing puffy eyes, but not if you're rubbing too hard.
Another skin icing method you can try is a little more daring. Fill your sink up with water, add some ice, and dunk. You'll definitely be awake after you try this one.
You can also use a Beauty Pop to make your ice mask. Unsurprisingly, this is our favorite method. 
Anti-Aging, Antioxidant Ice Globes in our Beauty Pops
Beauty Pops  are all the positive things about skin icing, plus even more all natural beauty secrets. Beauty Pops come with Beauty Pop powder and a mold to make the Beauty Pop itself. Add water into the powder until it becomes a paste, and then pour the paste into the mold. Stick the molds in the freezer for about four hours, then your pops are ready.
It's skin icing made easy, because now you've got an adorable Beauty Pop complete with a handle to use on your face. You get to apply it to your face by rubbing the pop around your skin. 
But it's not just an ice mask - you've got superfood infused into your Beauty Pop powder as well. And that formula is bursting with banana, papaya, turmeric and aloe vera which is rich in vitamin A, vitamin C, and natural fruit enzymes that combine with the power of icing. That means you're getting all the benefits of icing the skin, plus all the benefits of the superfoods in your Beauty Pop. Your skin is going to thank you.
Tips and Tricks with Ice Globes and Beauty Pops
When you're using an ice mask for skincare, you can simply just use a washcloth and ice. But we like to take your beauty routine to the next level - so here's a few quick hacks.
Add a cup of joe. When you're freezing ice cubes, freeze black coffee instead. The caffeine constricts the blood vessels even further, giving you the boost you're looking for.

Apply a serum. Before you ice,

add a serum 

to your skin. It will soak into your skin, and then gliding ice on afterwards helps to pull the ingredients in even further.

Bust out the aspirin. If you're struggling with acne, this trick is for you. Adding aspirin into warm water before freezing your ice cubes give them a healthy dose of acetylsalicylic acid. When you ice with this mixture, you're helping to dry up breakouts.
Try out aloe. If you have a sunburn, aloe is probably your go-to. Freeze aloe into ice cubes, and the combination helps to bring you ultimate relief.
Get a cup of tea. The catechins in green tea are known to be antibacterial, which is great for skincare. Pour some tea, let it cool, and then freeze it into ice cubes.
Time it right. Don't ice your skin for any longer than fifteen minutes - after that amount of time, you might risk making your skin too cold, which results in broken capillaries. If at any point icing becomes uncomfortable beyond simply being cold, take a break.
For the coolest way to give your skin the boost it needs, Love & Pebble's

Beauty Pops

are ready and waiting.