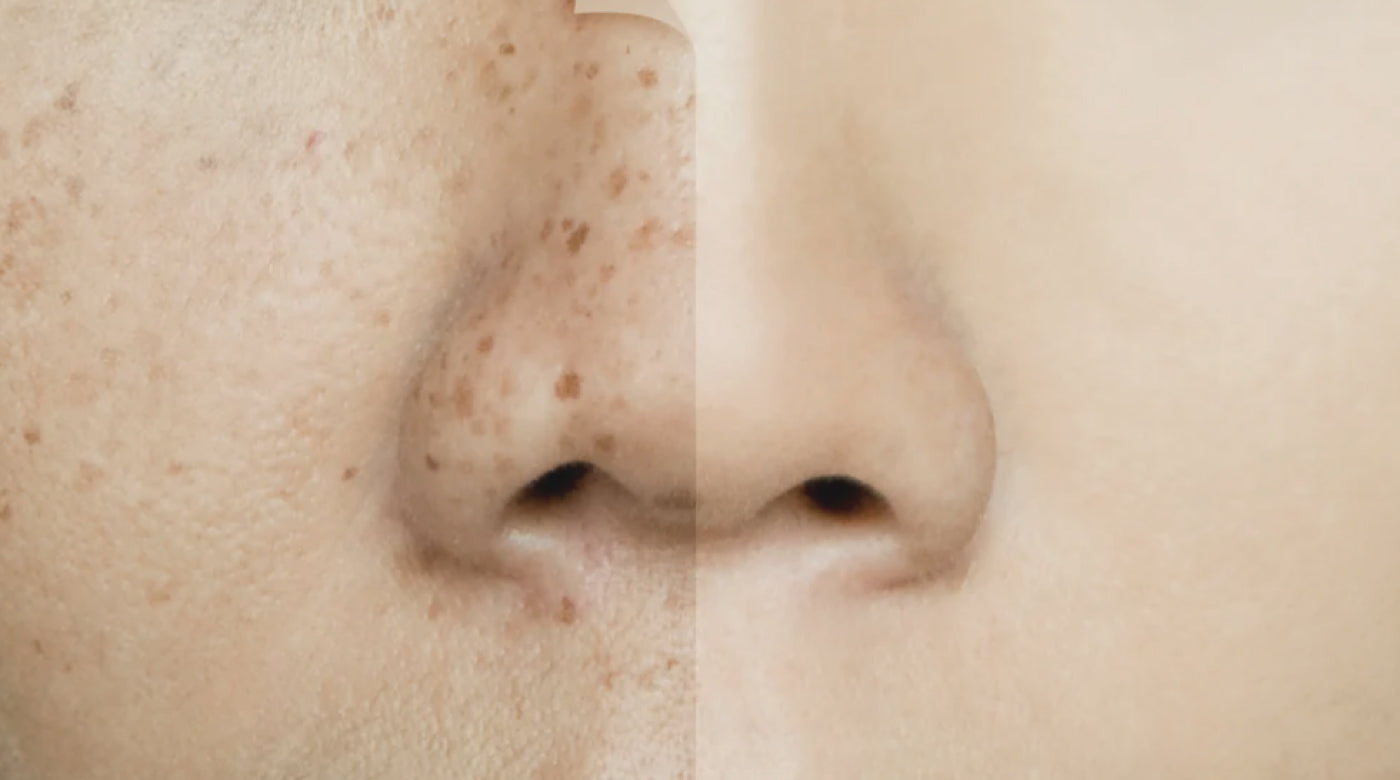 Skincare Myth: Only Older People Get Age Spots
What Are Age Spots and What Causes Them?
Age spots, also called sun spots or liver spots, are flat dark spots that occur on the skin. The most common cause of age spots is from excessive sun exposure, which leads to overactive pigment production. These pigmented areas become clumped together to form the darker area "spots."
Other things that can increase your risk of developing age spots include:
Having fair skin, which offers less protection from the sun's UV rays

Having a history of sunburns

living in sunny or high-altitude climates

Exposing your skin to UV rays from tanning beds
Age spots usually develop gradually and become more apparent as you age. They are more common among people over the age of 40 (hence the name - age spots)
However, anyone can get them—even people in their 20s and 30s.
How to Prevent Age Spots
In your 20s and 30s, help stop excess pigment that's forming under the skin from appearing by using a serum with licorice, soy, and/or vitamin C.

Seek shade, especially during peak sun hours, which are from 10 a.m. to 4 p.m.

Cover up exposed skin by wearing long-sleeved shirts, long pants, and a wide-brimmed hat.

Use a broad-spectrum sunscreen with an SPF of 30 or higher. Apply it liberally to all exposed skin, and reapply it every two hours, or more often if you're sweating or swimming.

Avoid tanning beds and sunlamps.
How to Lighten Age Spots
Age spots aren't harmful and usually don't require treatment. However, if you want to get rid of them for cosmetic reasons, these are some of the most effective treatments available.
Exfoliating the skin

: This can help remove the top layer of skin, which contains the age spot.

Chemical peels

. A chemical peel uses a solution to remove the top layer of skin, which contains the age spot. The new skin that grows in its place is usually lighter in color.

Laser therapy

. This involves using concentrated beams of light to destroy the cells that contain melanin, the pigment that gives skin its color.

Microdermabrasion.

This is a type of exfoliation that uses fine crystals to remove the top layer of skin.

Topical lighteners. These are over-the-counter (OTC) or prescription creams, gels, or lotions that contain agents like hydroquinone, azelaic acid, kojic acid, glycolic acid, niacinamide, vitamin C or retinoids. These substances work by lightening the color of the skin or inhibiting the production of melanin. Our Beauty Pops combines papaya, which is an excellent natural exfoliant, and a well known hyperpigmentation treatment, turmeric, to reduce the appearance of dark spots.