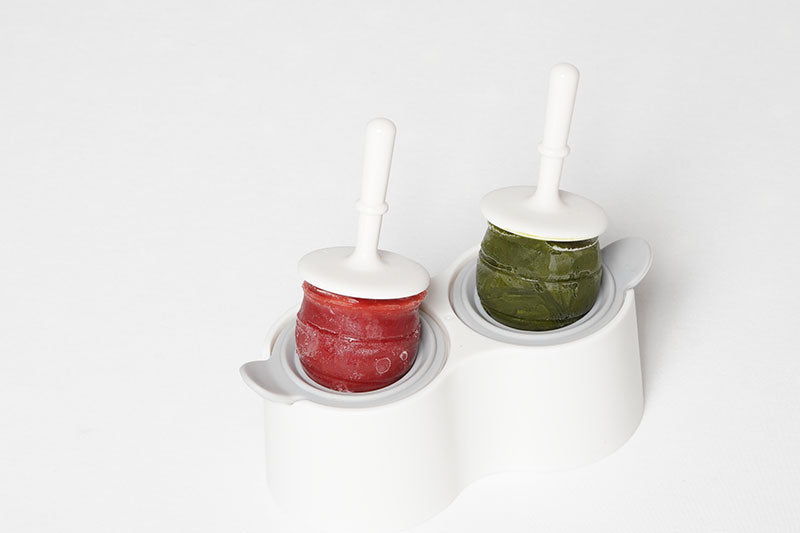 The Cryotherapy Facial Life Hack: Beauty Pops
Beauty Pops are the coolest new thing in cryotherapy. Get all the natural anti-aging, glowing effects of skin icing by using a superfood infused Beauty Pop.
Use egg yolk as a face mask. Don't eat any sugar for a year. Take a shot of apple cider vinegar. 
The internet is full of all kinds of skin care tips. Some are good, some are bad, some are crazy. We know what you really want: skin care that works. We want that at Love & Pebble, too. So that's why we made Beauty Pops. They're the innovative cryotherapy skin care hack that you've never heard of on one of those long lists of skin care tips.
Okay, so how do you know we're not in that crazy category? What is cryotherapy? And what are Beauty Pops? We've got your answers.
What is Cryotherapy?
Cryotherapy literally means "cold therapy," and you might have been exposed to it already if you've seen an athlete taking an ice bath. It's a type of therapy where the body is exposed to frigid temperatures for a short period of time - usually only several minutes. 
Skin icing is basically an ice bath for your face. When you're applying ice to your face, you're working with cryotherapy on a much smaller scale. The intense cold causes white blood cells to work more quickly in order to protect the skin and keep it warm. This sped-up blood circulation response promotes cell regeneration across your skin. And that's how you get that glow.
During a cryo facial, the cold also causes your blood vessels to contract, and your pores to tighten. Once your skin goes back to normal, the blood vessels quickly dilate, increasing blood and oxygen to the face. 
This increase helps make the skin more vibrant, and can even promote collagen, which causes the face to appear more taught. The rush of oxygen across your face also helps release toxins. After you do a cryo facial, you may notice that you feel tightness in your skin right away as a result of the collagen stimulation.
There are little to no side effects of a cryotherapy facial. The effects that could potentially crop up, like redness and numbness, are only temporary. You might also feel a tingling sensation as your skin warms up after being exposed to the cold. There is even some research that very cold temperatures might help to reduce production of sebum, which would reduce acne production.
The cold also produces a physiological response that releases noradrenaline, endorphins, and adrenaline, which have an effect on uplifting mood disorders like anxiety or depression. It can improve antioxidant levels in the blood, reduce inflammation, and even help treat atopic dermatitis.
In short, cryo facials can can help:
Tighten pores

Soothe skin and acne

Fill in fine lines

Increase collagen production
What is a Beauty Pop?
So, this is how a normal cryotherapy facial goes. Usually, in order to ice your skin, you'll have to freeze some ice cubes first. Then, you'll have to get a plastic bag to put them in, and a cloth to use on top of it so the ice isn't too cold. After that, you're left with a messy puddle of water and wet rags.
That doesn't necessarily sound like something you want. Enter: the Beauty Pop. Beauty Pops make skin icing way more simple - and come packing even more benefits from the natural ingredients.
Here's how to picture exactly what we're talking about. We're going to give you a little throwback here: think of a Ring Pop. Now, thinking of it frozen, but full of superfoods that are amazing for your skin. You're thinking of a Beauty Pop.
Beauty Pops arrive in powder form. You mix the powder with water into the mold, and then let it freeze until it's molded into the pop. Next, apply the frozen Beauty Pop to your face to get the benefits of icing the skin. 
Some of these benefits include:
Refining pores

Fighting wrinkles

Reducing redness 

Refreshing the face

Lessening of puffiness
And more. The cold temperature helps to promote blood circulation, which gives your skin a healthy glow and shrinks up your pores. We took cryotherapy and hacked it even further: by infusing the Beauty Pop with superfoods.
What is in a Skin Icing Beauty Pop?
In your Beauty Pop, you're going to find carefully curated superfoods that help you glow from the inside out. While cryotherapy is shrinking your pores, it's pulling in the topical ingredients you're using deeper into your skin.
That means you'll be getting a boost from:
Papaya, banana, aloe vera, turmeric, antioxidants, Vitamin A, and Vitamin C.
So what's NOT in Beauty Pops?
You know all the good skin care secrets that are packed inside your Beauty Pop. What will you not find? Well, a whole bunch of baddies. Beauty Pops are formulated without: 
Preservatives (because we make Beauty Pops in powder form, we don't have to use toxic preservatives in the 100% natural formula)

Formaldehydes, 

Artificial Dyes

PEGs (aka a petroleum based compound found in many beauty products. but also in laxatives. It was literally used as nerve gas in World War I)

Alcohol

SLS phthalates (widely known to be estrogen disruptors)

Mineral oil

DEA

Synthetic fragrances 

Parabens (they easily penetrate into the bloodstream and are thought to be carcinogenic)

Cruelty to animals

Petrolatum
Really, if any of your skin care contains any of those products, they might be doing a lot more harm than good. We care about what your skin absorbs, and stray away from anything with harmful effects.
At Love & Pebble, we want you to let yourself glow, and we think there's no better place to start than the coolest facial life hack out there. So, the only thing that's stopping you from glowing skin? Not having a Beauty Pop in your hand. Let's change that.