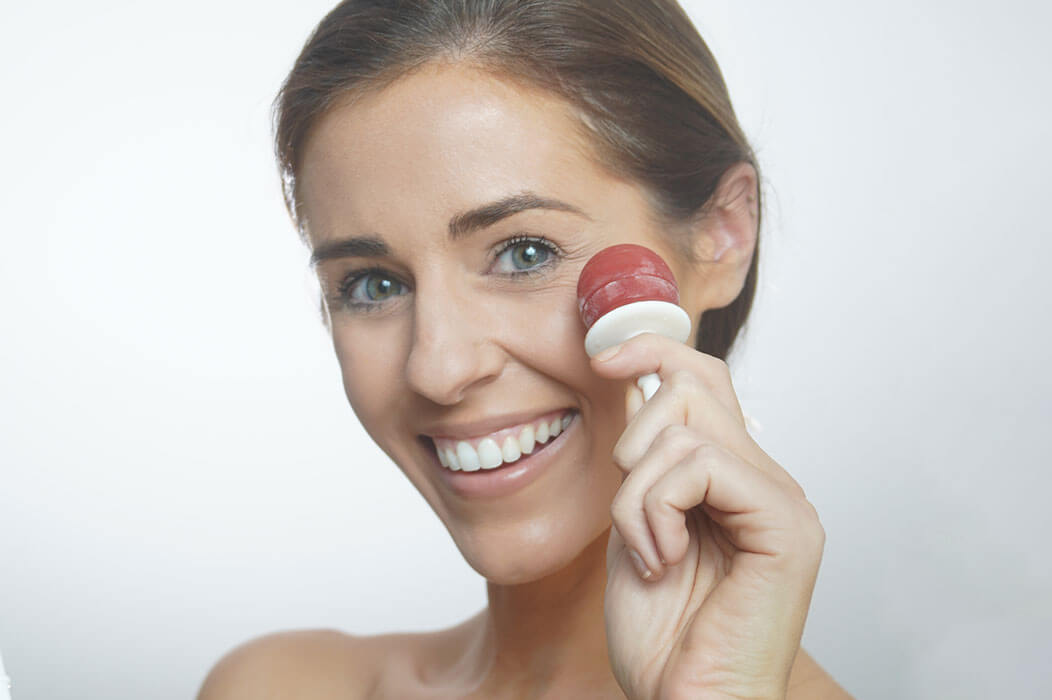 Top Hollywood Beauty Secret You Need To Know
Want celebrity-perfect skin? Check out skin icing, a skincare routine all the celebrities and celebrity stylists swear by.
Cryotherapy facials, or skin icing, have been taking the celebrity world by storm. They're exploding across social media from Instagram to TikTok, and are definitely the Hollywood and traditional beauty secret that you need to know.
What is Skin Icing?
You might have seen us explaining skin icing before, but it's because we're so excited about it. Skin icing is literally when you apply ice to your skin to unlock a whole slew of beauty benefits. These include:
Smoothing fine lines

Increasing collagen production

Refining pores

Eliminating puffiness

Calming the skin
Skin icing is as simple as running an ice cube over your skin. This form of cryotherapy can be combined with your regular skin care routine to enhance the effectiveness of serums, because the cold temperature draws nutritional superfood ingredients into the skin further than a regular application. You'll want to pull this easy, effective Hollywood beauty secret straight from celebrity skincare specialists to use for your own.
Why do Celebrities use Cryotherapy Skin Icing?
The long list of benefits of skin icing is hard to find with any other skincare hack. Your skin is immediately refreshed, plumped up, and vibrant. So it makes sense that it's a key celebrity million dollar beauty secret. Jennifer Aniston is a firm believer in skin icing. Gigi Hadid reportedly takes it a step further and gets full body cryo treatments before she walks on the runway.
The list of celebrities using cryo facials goes on. Joan Crawford reportedly bathed her face in ice water on a regular basis. Dakota Johnson, Mandy Moore, and Elizabeth Moss have also proclaimed the technique as their favorite Hollywood Beauty Secret. 
Skin icing isn't just a recent celebrity secret - Catherine the Great, a Russian Empress in the 1700s, was said to be a fan of the technique. She would ice her face and neck every morning to give herself a glowing appearance. 
Another celebrity stylist, Candace Marino, also can't go without skin icing. She says that it reduces inflammation, redness, and puffiness, while also stimulating circulation and sculpting the face. With celebrities and celebrity estheticians alike confirming their love for skin icing, it's no wonder that the trend is also picking up on social media.
Skin Icing on Social Media
Go on TikTok for more than a few minutes and browse through skin care, and you'll undoubtedly run into skin icing. One post that went viral on Instagram was from @bagsnob - also known as Tina Craig. She gives a great overview of the benefits of skin icing, and shows a brief tutorial on how to ice your skin. The video has over two million views, with a whole slew of other users creating their own videos to try out the technique. 
For those of us who don't have a celebrity esthetician, but still want to reap the benefits of skin icing, there's good news. You don't have to look for a fancy facial or spend a fortune on a new skincare routine. 
Love & Pebble came up with a way to put skin icing right in the palm of your hand, celebrity or not. It's called a Beauty Pop, and it's an easy way to give yourself a cryo facial at home. 
The Beauty Pops ice mask kit comes with everything you need to make a ready to use Beauty Pop. All you do is mix together the superfood blend, add it to the mold, and pop it in the freezer. 
Once it's done freezing, you're ready to ice your skin. But since it's made with the special beauty pop mold, it's a more sophisticated system than having to literally hold a piece of ice and freeze your hands. You've got the ice contained in its own pop mold, and because of its special formulation, the Beauty Pop is designed not to melt and drip as much as a regular ice cube would.
And that's not the only reason it's better than a normal ice cube. The superfood blend is made up of papaya, banana, aloe, and turmeric. Papaya is a natural enzyme that exfoliates your skin. Banana helps nourish the skin, and makes your face soft and moisturized. Turmeric is anti-inflammatory, so combined with ice, it gives a one-two punch to any puffiness you might be experiencing. 
When you use Beauty Pops, you won't need a celebrity esthetician - but people will think you have one.